SHEET VINYL GLUED TO SCREED IS NOT PERMITTED!
The ESFA requires all sports, multi-purpose and actitvity floors to be area elastic
✔AREA ELASTIC floors normally use a "sprung" batten undercarriage and a timber deck of some kind- often prefinished solid hardwood or a synthetic covering bonded to ply or chipboard. When a player lands on the floor the surface of the floor deflects over a relatively wide area- hence "area elastic". Two categories of area elastic floor are approved by the ESFA, Categories A3 and A4. They define slightly different levels of shock absorption, and surface deflection, see Table 1 below.
AREA ELASTIC: The floor surface deflects over a relatively large area - as with all Junckers sports floor systems.
| | | |
| --- | --- | --- |
| Test Criteria | Category A3 | Category A4 |
| Shock Absorption | ≥ 40 ≤55% | ≥ 55 ≤75% |
| Vertical Deformation | ≥ 1.8mm ≤ 3.5mm | ≥ 2.3mm ≤ 5mm |
Under the ESFA's Schools Building Programmes all sports and activity hall floors MUST be AREA ELASTIC floors, Category A3 or A4 under EN 14904.
The rules also apply to the following ESFA-led projects:
Prority Schools Building Programme (PSBP)

SEN Schools

Free Schools

University Technical Colleges
Studio Schools

Academies Capital Maintenance funded schemes

Local authorities

Multi Academy Trusts
Diocesan Bodies

6th Form Colleges

Further Education Colleges

Primary Schools

Secondary Schools
The ESFA does not allow sports, multi-purpose and activity floors that are point elastic
POINT ELASTIC floors are typically foam-backed vinyl, where the floor deflects at the point where the players foot makes contact with the floor.
| | | | |
| --- | --- | --- | --- |
| Test Criteria | Category P1 | Category P2 | Category P3 |
| Shock Absorption | ≥ 25 ≤35 | ≥ 35 ≤45 | ≥ 45 |
| Vertical Deformation | ≤ 2.0mm | ≤ 3.0mm | ≤ 3.5mm |
AREA AND POINT ELASTIC FLOORS - EXAMPLES
The performance characteristics of Area and Point Elastic floors are defined in European Standard EN 14904 and there are different categories for each. They are categorised mainly according to their shock absorption and the amount by which the surface deflects under load. (See pages 2 and 3). The most commonly found examples of each type are:
AREA ELASTIC (Categories: A3 or A4)
Suitable for Sports Multipurpose and activity halls

Including:

Sports Halls
Activity Halls
Dance, Drama and Fitness Studios
Multi-purpose and Dining Halls
Primary School Studios Small Halls and Assembly Halls

EXAMPLES OF AREA ELASTIC FLOORS

• Solid hardwood on battens
• Solid hardwood on resilient underlay
• Junckers BluBAT
• Junckers UnoBAT 45
• Junckers UnoBAT 62+
• Junckers New ERA UnoBAT
• Junckers Clip System JUNCKERS VINYL SPORT ON:
• Cradle levelling system
• Low profile batten system
• J-Lock levelling system
POINT ELASTIC (Categories: P0, P1, P2 & P3)
NOT suitable for:

Sports
Multi-pupose or activity floors in ESFA funded project

EXAMPLES OF POINT ELASTIC FLOORS

• 2mm Solid Vinyl on screed
• 4mm, 6mm, 8mm or 12mm Foambacked or cushion vinyl on screed
• Polyurethane resin with foam underlay on screed
You will be in breach of the ESFA's design rules if you install a point elastic floor system
...such as sheet or foam-backed vinyl glued to a screed, as this is deemed not to be suitable for use as an activity or performance floor. Table 3 below is an extract from the ESFA's Technical Annexe 2D: Internal Elements and Finishes (November 2017) It shows that all floors in sports and multi purpose halls must be Area Elastic Category A3 or A4 systems.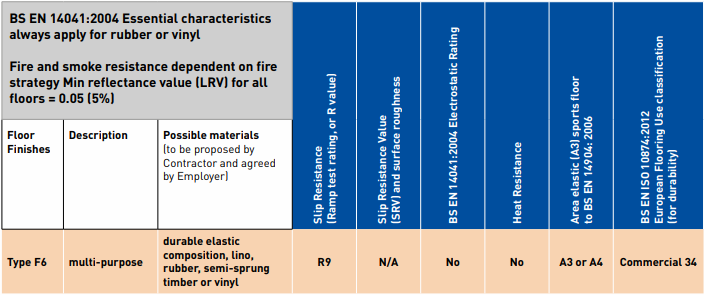 Table 3 (ESFA Technical Annexe 2D) – Minimum Performance Requirements – Floor Finishes. See requirement for A3 or A4 category flooring for multi-purpose floors (Type F6) .
Cost comparisons and value engineering guidance
Solid hardwood floors have sometimes erroneously been regarded as an expensive option for activity and multi-purpose floors in the education sector. This is emphatically not the case. The table opposite shows that Junckers 22mm SylvaSport solid hardwood systems are the lowest installed cost options for both A3 and A4 performance criteria. Their proven longevity (50 years plus) also means that they are unrivalled in terms of life cycle costs.
OUTLASTED, OUTPERFORMED AND PEACE OF MIND

Choosing a Junckers Solid Hardwood Area Elastic Floor System means that many of the common problems associated with vinyl and synthetic floors are avoided. Periodic relacqering hides scratch and scuff marks. Hardwood floors are very easy to repair or fully refurbish to an "as-new" standard.

LONGEVITY AND LIFE CYCLE COST

A Junckers solid hardwood floor can be sanded between eight and ten time during its life. The first sanding will usually be needed when a synthetic floor is worn out and ready for replacement. Junckers hardwood floors normally cost less to install than vinyl floors but last up to four times longer.

EXAMS

There is no need to protect the hardwood floor with a temporary covering when using the activity floor for exams, social functions or similar activities.

RETRACTABLE SEATING SYSTEMS

Junckers solid hardwood floors are fully load bearing and will not be dented, marked or scuffed by retractable seating systems.

RETRACTABLE SEATING SYSTEMS

Junckers solid hardwood floors are fully load bearing and will not be dented, marked or scuffed by retractable seating systems.

NO SEAM OR JOINT FAILURE

Hardwood floors do not have welded or bonded joints. Those that are found in synthetic floors are usually the weakest point and are difficult to repair effectively.
WE WILL HELP YOU TO SPECIFY THE RIGHT AREA ELASTIC FLOOR SYSTEM
Junckers is one of the most experienced designers and manufacturers of area elastic floor systems. Our floors are installed in schools around the world, as well as being used in leisure centres and major international sports venues for Commonwealth and Olympic events. Our solid hardwood floors have a life span of over 60 years and are fully guaranteed.
We design and manufacture all the systems that we sell, therefore when you specify a Junckers floor you can be sure that all materials used will be fully tested and fit for purpose. We have valid test certificates to EN 14904 which show that the systems we offer comply with the standard.
At Junckers we take pride in offering systems that we have fully designed, tested and manufactured ourselves. Every component and raw material is closely specified so we know that what is delivered to the client is the same high quality product every time. We do not purchase systems from other manufacturers and "own brand" them, and we do not use generic performance test certificates as each system we offer is individually tested and certified by an independent testing laboratory.
Read more about the rule changes in our brochure below and what they mean